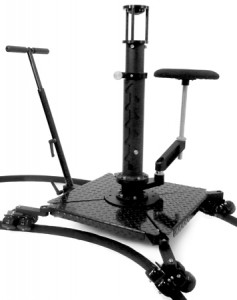 This versatile design can be configured as a 3- or 4-Leg Dolly. Purchasers of the 3-Leg Spider Dolly can later add components to their kit to upgrade to the rideable 4-Leg Spider Dolly. Owners of the 4-Leg Spider Dolly can configure the dolly for use as a 3-Leg Spider Dolly. The components of either Dolly can also be used as a Mini Trolley.
Combined with Losmandy FlexTrak, the simple 3-Leg Spider Dolly converts your tripod into an inexpensive, extremely portable, tracking camera dolly. Add a fourth leg, and you can further accessorize it to be a fully rideable 4-Leg Spider Dolly with adjustable center column, a seat that pivots 360 degrees around the column, foot platforms and pushbar.
The Losmandy® Spider Dolly can work on traditional steel track, or on track made of PVC pipe, or on our award winning Losmandy FlexTrak — a flexible track made of special steel-reinforced tubing that not only rolls up into a bundle for easy transport, but also allows you to make straight or curved dolly moves with almost no set-up time.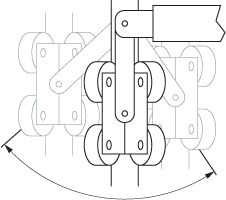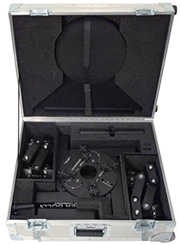 (Located in Kendall 30)
NOTE: Training required to qualify for use.