Introduced in 1952 This was the first ARRI 16mm camera. The "St" designation meant "Standard", and the camera is also referred to as the Barflies 16S. This is one of the most successful ARRI camera designs and over 20,000 were made.
In many ways the 16 S follows the design paradigm of the Arriflex 35 IIC. Both are designed as MOS cameras. Both use a "bowtie" spinning mirror reflex design. Both use a 3-lens turret accepting ARRI mount lenses (later re-designated ARRI Standard mount when ARRI Bayonet mount was introduced). Both use a straight viewfinder tube in the "door".
The earliest 16St cameras (below No. 5600) have a viewfinder made by Carl Zeiss Jena, with a non-removable eyepiece. The film door is flat on these cameras, and the area near the magazine port is ribbed. The sprocket guard lacks rollers and the spring drive belts are exposed.
Later 16S cameras (No. 5601+) have the standard viewfinder with a detachable eyepiece, the same as the 35IIC and 16BL, and the film door is beveled, not flat. Starting around No. 8001, the drive springs are covered and the sprocket guard has two rollers. The ribbing near the mag port catch was also eliminated.
The 16 S is different than the 35IIC in that it has internal capacity for 100ft of film, the lens turret is divergent, the motor is mounted behind the camera allowing for a flat bottom, and the ground glass is mounted near the eyepiece. The 16 S divergent turret is designed to help prevent wide angle prime lenses from seeing the ends of longer primes mounted on the turret. The camera was meant to be used with 3 prime lenses mounted in the same manner as a Bolex.
The 16 SB is the most common variant of the 16 S. The SB has one stainless steel ARRI Bayonet mount and two ARRI Standard mounts. This allows you to mount Bayonet mount lenses, expanding your lens choices, and making the highest-quality 16mm lenses available to the 16 S.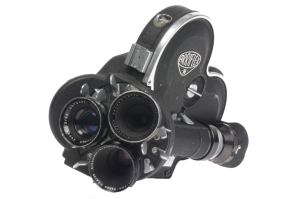 The 16S can accept 400 ft magazines. The magazines use a separate torque motor that can be removed from one magazine and placed on another. There are also very rare 200 foot magazines.
The 16 S was designed as a standard 16mm camera (its design predates the Super-16 format by 20 years). It is not an easy camera to convert to Super-16 because of the design of the gate and mirror. Apparently ARRI made approximately 25 Super 16 Arriflex ST's (with the Bayonet mount turret).